On Monday, September 12, NorthCountry Health opened its doors to the Marquette community.  I started seeing patients immediately and began fielding phone calls from prospective patients who wanted to talk about the Direct Primary Care model and set up their initial meet and greet sessions.  Some of these phone calls came from patients I already knew and some of them came from community members who were ready to explore a new option.
Later that first day, the Lake Superior Community Partnership arrived with a large blue ribbon and some truly enormous real scissors.  Friends, colleagues from the hospital, local dignitaries, TV6 and family members began arriving.  We had a ribbon cutting ceremony and I did an interview with TV6 that highlighted the clinic and the Direct Primary Care model.  Thanks to all who came in support of this venture!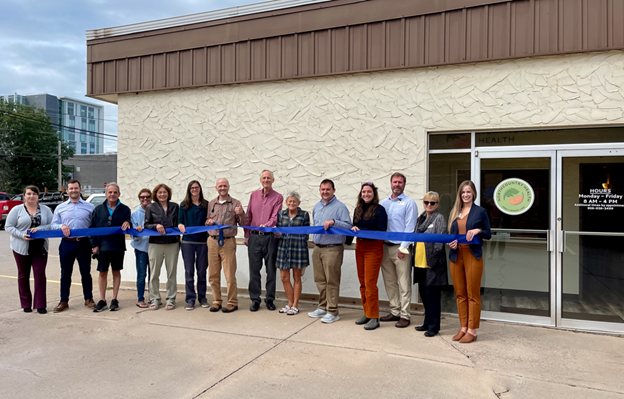 On September 22, we hosted an open house from 4pm-7pm.  We welcomed friends, fellow small business owners, people who have helped us along the way and have now become friends, prospective patients, colleagues in the medical community and our ever-helpful family members.  Katie timed her sourdough bread perfectly for the start of the open house, and the aroma of freshly baked bread added to the welcoming atmosphere.  Thanks also to our many friends who brought us the (hopefully) hardy plants that now grace the waiting room!
The days since the opening have been full.  I thought the clinic was ready to go, but there were some technological things to learn (how to hook up the scanner, get the phone lines set up, ordering supplies, etc.)  The adjustment to the slower pace of medicine has been refreshing and rewarding.  I have performed the first in-house blood draw and dispensed the first in-house prescription, both of which saved patients time and money.
The patient response has been overwhelmingly positive.  Patients have appreciated the expanded time available to discuss not just their current medical concerns, but also their health goals and how to maintain their health in the future.  
NorthCountry Health Direct Primary Care is open for business, and once you are ready to consider a new model of primary care, send me an email (ryan@northcountryhealthmqt.com) or give me a call (906-936-3499) and we can get started!